Episode EA-AMP-12D-70A (USED)
$1,200.00
In Stock
Description
Episode® Digital Amplifier with 70 Watts per Channel
These efficient, class-D Episode® Digital Amplifiers deliver a powerful 70 watts RMS per channel. Available with 8 or 12 channels, these amps are perfectly at home in multi-room audio applications, They feature audio sensing turn-on, loop outputs, adjustable gain control, and bridgeable outputs, giving installers the versatility required for today's sophisticated audio systems.
Audio Sensing
Audio-sense is perfect for multi-room audio – when the last source shuts down, the amplifier will gracefully go into a power-saving standby mode. The 12V trigger inputs and outputs allow you to use a preamp or control system to turn the amp on or off, or have it "wake up" another device when the amp is activated.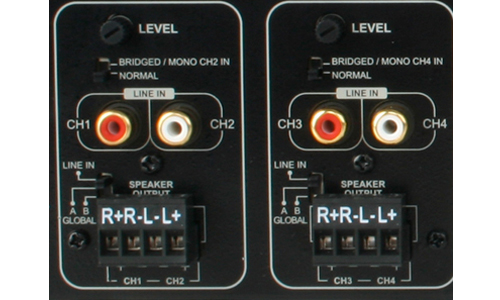 Bridgeable Speaker Outputs
For larger speakers or high-power applications, bridgeable channels allow you to combine any 2 channels into a single 140W channel. For example, run 2 "standard" zones of audio plus one high power zone. Or use these amplifiers as ultimate bi-amping solutions for two-channel applications with 4 bridged channels.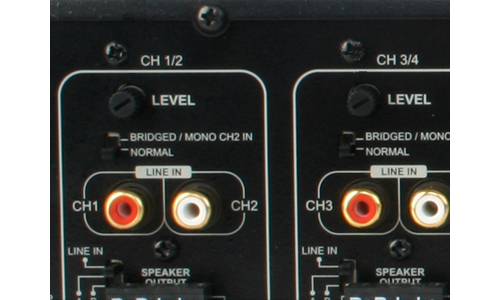 Gain Controls
These amps offer gain adjustments for each channel pair, allowing you to independently trim output levels in each zone whether using the global or line level inputs. In volume control-based systems, these may be used to prevent harmful clipping that could cause damage to the amplifier or speakers.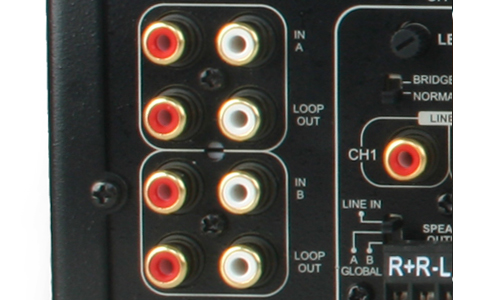 Loop Outputs
From single source with volume controls to independent sources at each room – or any combination in between – this amplifier has the flexibility you need. Global A/B provides two independent global sources that can be mapped to desired channel pairs. When using a stack of amplifiers, the loop outputs are a convenient way to daisy-chain the signal to downstream components.
ESD & Surge Protection
Multi-room AV environments can be tough on an amplifier. Each speaker run acts like an antenna, so all kinds of nasty things can happen when the weather changes. That's why we engineered this amp with surge protection components that exceed CE Level 3 standards. During development, every connection – all speaker outputs, RCA connectors even the power input – were ESD tested with up to 15,000V and Surge tested at 2,400V.