Synergistic Research Galileo Active Ground Block SE
Regular price
$7,495.00 USD
Regular price
Sale price
$7,495.00 USD
Unit price
per
Sale
Sold out
SELECT OPTIONS:
Share

Synergistic Research Galileo Active Ground Block SE
THE HEART OF YOUR SYSTEM.
The Galileo Active Ground Block is a top to bottom re-engineering of our award-winning Active Ground Block SE with technology originally designed for our Galileo SX PowerCell as well as new technologies expressly developed to make this the world's highest performance ground filter for your stereo. We start with a new chassis machined from a solid billet of aluminum and carbon fiber to address unwanted vibration and chassis resonance that would otherwise lower your system's performance. We then re-engineered the internal Electromagnetic Cell increasing the number of active filters from one as found in our Active Ground Block SE to three Active Em Cells with Galileo SX PowerCell technology.
This includes 2 x rolled EM Cells in carbon fiber housings to control resonance and one flat Carbon Fiber Electromagnetic Cell with a copper mesh Ground Plane as found in our Galileo SX PowerCell. We then turned up the gain in a new ULF Generator for three times the signal strength of the Active Ground Block SE for a significant gain in performance. And since the Galileo Ground Block was developed in conjunction with our limited edition 2ndGeneration Galileo SX PowerCell it shares its ability to custom-tune the sound of the ground filter to complement your system and personal tastes by changing the bias frequency of the ULF signal generator.
By pressing a button on the back of the Galileo Ground Block you change the frequency that biases its three Active EM Cells and this changes the characteristic sound of your system. There is a default setting shared with our current Active Ground Blocks and three new frequencies that make your system sound more liquid or dynamic and holographic; the choice is yours. And to make keeping track of which frequency you have selected easy, when you press the button, it changes the color of the light inside the unit, visible from the view window on the top of the unit. We also added new useful features like the ability to directly wire both your PowerCell line conditioner and Atmosphere Acoustic Field Generator to increase their performance.
What's inside?
99.9995% Pure 14awg Silver point-to-point wiring

2 each Active Folded EM Ground Cells 25% larger

UEF Ground Plane (Copper in center of unit)

New Galileo SX PCB with multi-setting ULF generator

UEF Orange Capacitors

New Multi-stage Quantum tunnel treatment

44 mini BFA ports

2 dedicated ground ports for SR Atmosphere and PowerCell conditioners

View Window

Gold Tuning Modules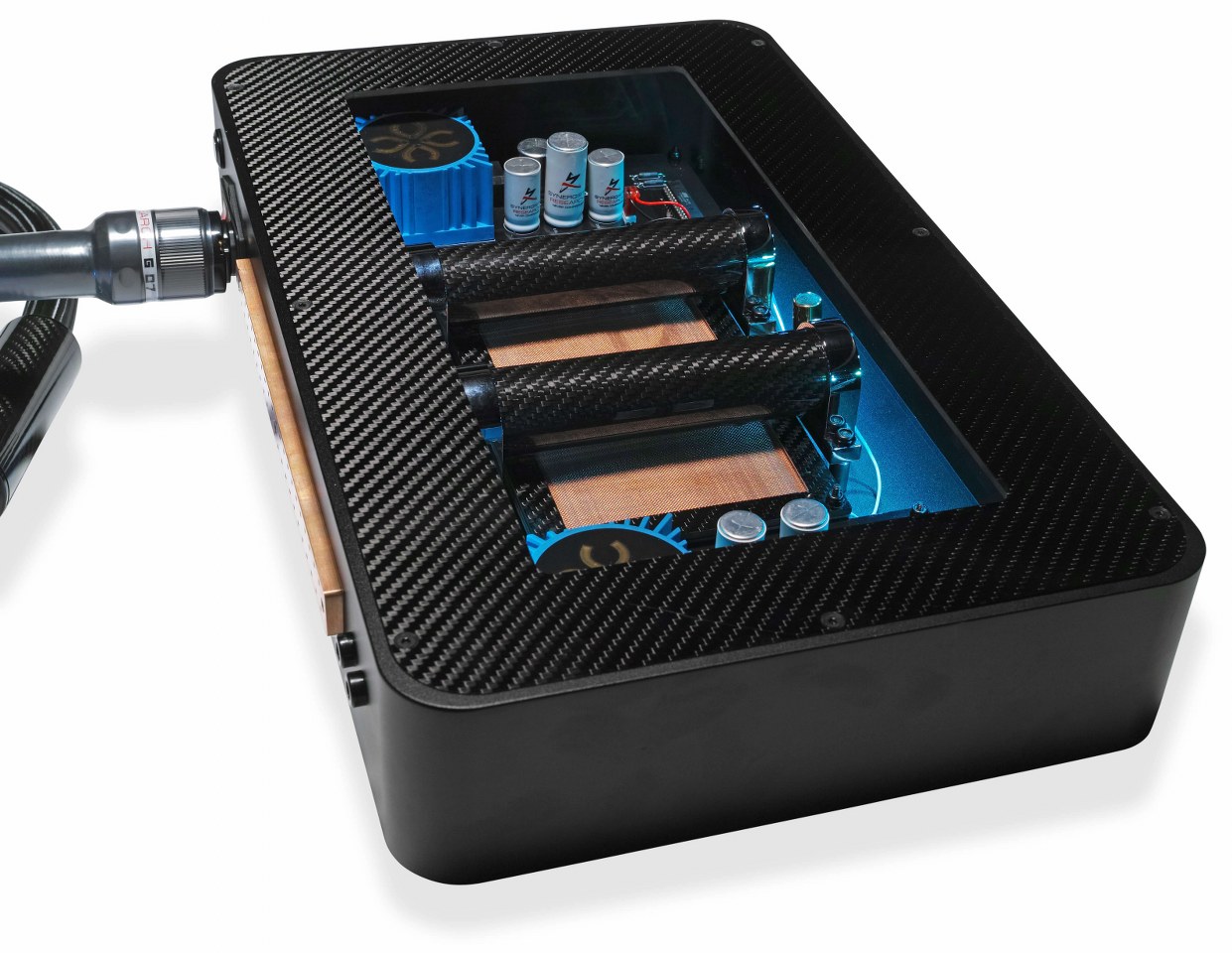 Construction: Aircraft Aluminum, Carbon Fiber
Dimensions: Dimensions: Height 3.5″ x Width 17.5″ x Depth 10.5″
Weight:  22lbs.
2 each Internal Active UEF EM folded Ground Cells
1 each Internal Active UEF EM flat Ground Cells
Connector Input:  1 each 15 amp IEC
99.995% Pure Silver Ground Strap: 52 square centimeters
UEF Orange Capacitors
99.9995% Pure 14 Awg Silver Point-to-point wiring
Silver Solder 4%
Hand Built Time: 8 hours
Quantum Tunneling: UEF Multi-Stage
5 Day Burn In: 2 Step Process

VOLTAGE AND CURRENT RATING:

Input rating US: 15amp/125v
Input Rating International (EU/AU/UK): 16amp/250v

CONNECTOR INPUT :

INTERNAL ACTIVE UEF EM HORIZONTAL PLANE CELL AREA:

380  square centimeters
2 x Internal Active UEF EM Folded Carbon Fiber Cell area: 1142 square centimeters total

GALILEO SX ULF GENERATOR:

Designed for the Galileo SX Ground Block and Galileo SX PowerCell, the newly developed multi-setting Ultra Low Frequency (ULF) generator allows users to select between multiple generator frequency settings.  Providing the ability to adjust the characteristics of your Galileo SX ground/power components to perfectly match your system and music selections.

UEF:

Graphene treatment throughout unit
Internal "Active" power supply for biasing EM Cells
3rd generation Internal ULF (Ultra-low frequency) Generator to bias AC to the Earth's Schumann Resonance for a dramatic drop in a system's noise floor
2 each SR Power Transformers
8 each UEF Orange Capacitor in EM Cell power supply and ULF field generator

CONNECTOR INPUT:

1 each  15 amp IEC
1 each On/Off switch

AVAILABLE CONNECTIONS FOR OTHER SR PRODUCTS WITH SR GROUND PLANE TECHNOLOGY:

Synergistic Research Atmosphere: Acoustic Wave Generator
Synergistic Research FEQ: Frequency Equalizer
Synergistic Research Tranquility Base Products

OPTIONAL HIGH-DEF CONNECTIVITY GROUND CABLES ARE AVAILABLE FOR THE FOLLOWING APPLICATIONS:

Turntables: Connect to Ground Plug on Turntable
Digital to Analog Converters (DACs): Connect to spare Digital Input, Output or Chassis Ground
Pre-Amplifiers: Connect to spare Analog Input, Output or Chassis Ground
Power Amplifiers: Connect to spare Analog Input, Output or Chassis Ground.
USB Devices: Connect to spare USB Input, Output or Chassis Ground
Any Component with an active circuit inside: Connect to spare Input, Output or Chassis Ground