T+A MP 1000 E CD/DAC
Regular price
$7,500.00 USD
Regular price
Sale price
$7,500.00 USD
Unit price
per
Sale
Sold out
Share
The Multi Source Player
This is a unique device reflecting an ingenious design philosophy, as it combines the classic music source of CD with the ability to play digital music formats from a vast range of sources! Please note: the MP 1000 E is NOT a computer; it is a first-class audiophile CD player incorporating supplementary functions designed to enable other internal and external digital sources to exploit its outstanding converter. With this aim in mind we developed a mainboard which can process five different digital sources at superb quality and devoid of jitter; a new Streaming Client (SCL), which is a network-enabled processor board featuring WLAN, LAN and USB interfaces; a high-quality digital tuner; a High-End CD mechanism and a Digital Connecting Board fitted with five high-quality digital SP/DIF inputs, a computer USB input and an aptX® Bluetooth module.
These features permit the MP 1000 E to access everything which delivers music: Internet radio with Airable Internet Radio Service; UPnP network music servers and USB memory media; FM, FM-HD and DAB+ radio; CDs and music from computers, laptops or other external sources via the SP/DIF inputs. HD Bluetooth streaming from mobile devices is also possible at superb quality.
The USB Device Mode input is intended for streaming music files from a computer, and we deliberately designed it to be of exceptionally high quality. It can process data rates up to 32-bit / 384 kHz for PCM and DSD 256 (12 MHz).
The heart of the MP 1000 E is its double-mono differential converter (DAC) combined with audiophile high-bandwidth analogue output stages. It even possesses a sophisticated clock resynchronisation circuit to eliminate jitter and all forms of external interference. It is this combination which is responsible for the MP 1000 E's incredibly natural, lively "analogue sound", which is refreshingly different from many other digital players.
As an option the MP 1000 E can be fitted with the VVM pre-amplifier module to provide volume control; this may be necessary, for example, if you wish to use active loudspeakers with the machine.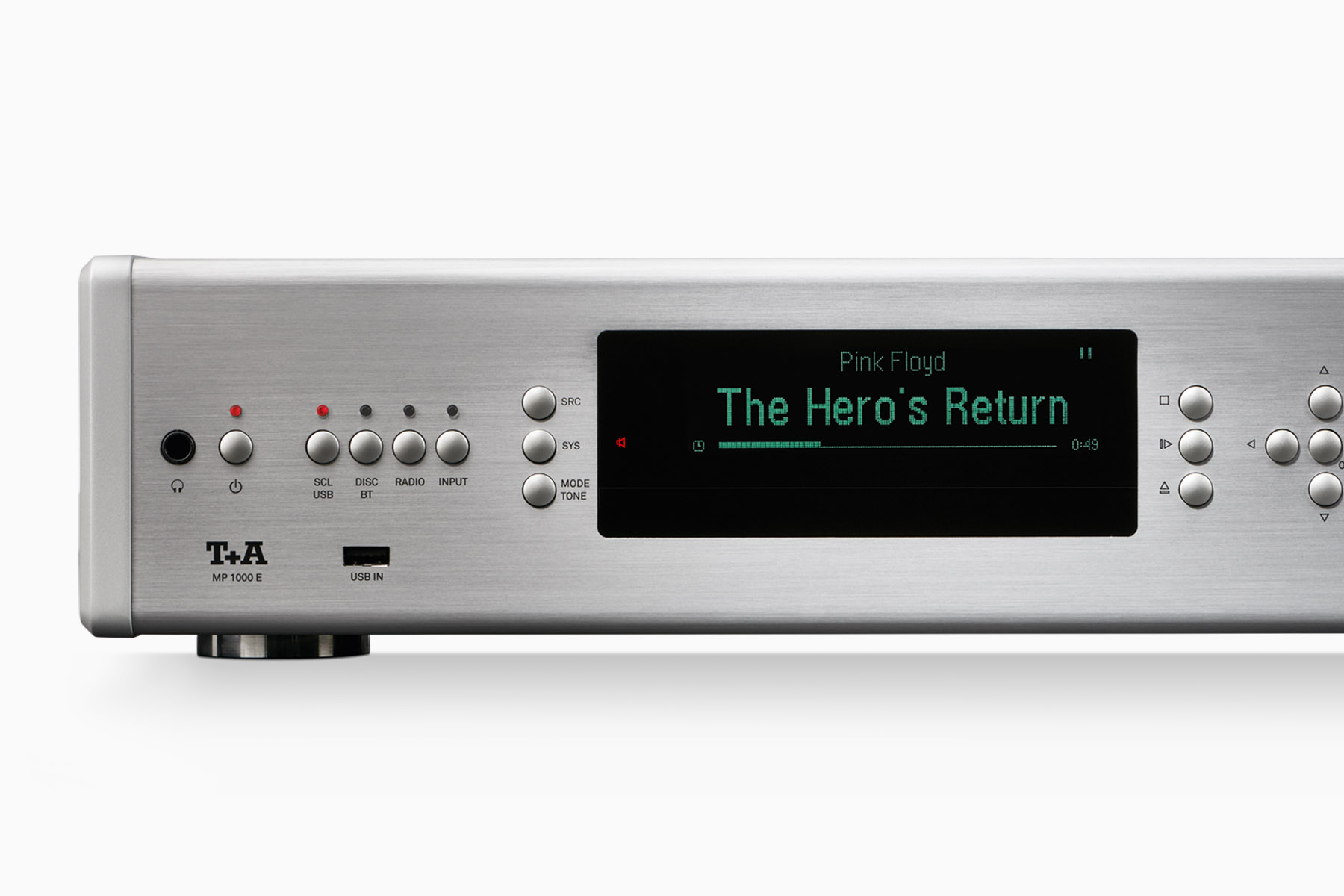 Technology
We designed the MP 1000 E to continue the proud tradition of our legendary Disc Players, and it therefore ranks as a thoroughbred stereo CD player. For this reason it is vastly superior to any computer solution as far as audiophile requirements are concerned.
The digital signals from the CD mechanism, the Streaming Client Board, the digital tuner, and the Digital Connecting Board with SP/DIF and USB inputs are converted into analogue signals in a fully symmetrical process by the highly sophisticated double-mono differential converter (DAC), which produces very high standards of quality. It is the core of the MP 1000 E, and even features a sophisticated clock resynchronisation circuit to eliminate jitter and all forms of external interference. The unit employs the latest 32-bit converters from Burr Brown (TI). These features make the MP 1000 E a High-End audio DAC for external sources as well as a High-End player for the integral sources! There are even two modes for the filter characteristics, allowing the user to fine-tune the converter to suit particular characteristics of the selected source. Downstream from the digital signal conversion a high-quality audiophile analogue output stage with high bandwidth (100 kHz) is responsible for further signal processing. This section is perfectly matched to the balanced and unbalanced outputs, and makes an important contribution to the machine's superb overall sound quality.
The five High-RES digital inputs (coax at 192 kHz and optical at 96 kHz) can be used to enable external sources to be converted by the integral DAC to high quality levels; in this way other devices can exploit the extraordinary sound qualities of the MP 1000 E. The extremely high-class USB / DAC input is designed for streaming DSD or PCM music files from a PC at very high definition; up to PCM 384 or DSD 256 is possible. The machine also features input sockets for USB devices, LAN and a WLAN USB aerial.
The MP 1000 E is supplied complete with the FM1000 system remote control handset, which can also be employed to control the PA 1000 E. All that is required to complete the "E-2 Link" data bus connection. The optional FD100 radio remote control handset can be used if a gateway is installed.